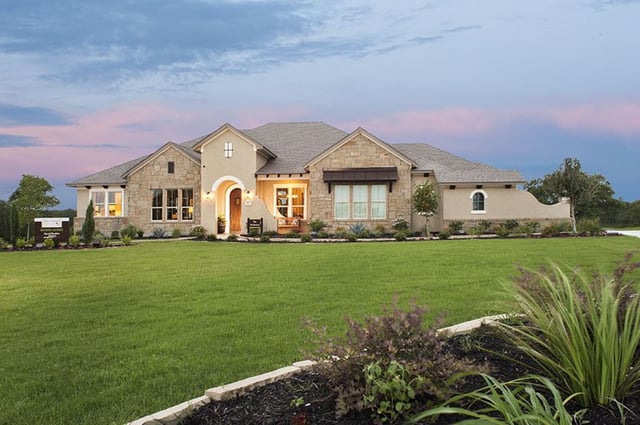 Often, the hardest part of the custom homebuilding process is figuring out who's going to build your dream home in the Hill Country. If you don't already have a builder in mind, you may be wondering how to find a builder in the Hill Country with the local experience and expertise you need. Building a home in New Braunfels and other local cities takes unique skill because of the distinctive landscape, and Vintage Oaks is proud to feature homes from some of the top builders in the area, the state, and the nation.
A new program offered in the community, called Vintage Oaks Builder Services, aims to arm those who are looking to build a custom home at Vintage Oaks with detailed information about preferred area builders, including providing access to floorplans and elevations for inspiration.
This complimentary service can take the stress out of finding the right builder and simplify the process, thereby allowing buyers to concentrate on all the advantages of building a custom home in the Hill Country instead of being bogged down by details.
The importance of finding the right builder
Second to finding a doctor, there may be no more important referral to get than one for the builder of your custom home. Vintage Oaks Builder Services reviews recommendations from more than 500 property owners with direct experience building in the community and aggregates reviews and owner feedback on a wide variety of important topics including quality, budget, timeframe, and post-completion service. The direct experience of those who have already been through the process of building a home at Vintage Oaks can provide invaluable intel for those who are just starting the process.
Builder Services assists Hill Country land buyers by:
Meeting with you to understand your specific needs—whether you already have a floorplan in mind, require specific or special features in your home or on your land, your budget, any timeline details
Explaining and simplifying the construction process—includes the ARB process, construction process and typical timeline, tips for how to avoid costly changes or delays
Recommending builders based on what you need
feedback with other owners to ensure your voice is heard
Follow-up throughout the building process to add your insights and reviews and share your feedback
Vintage Oaks is the fastest-growing community in the Hill Country for the past three years and home to hundreds of proud Texas land owners. The masterplan offers a range of New Braunfels homesites for sale with lots starting at one acre in gated and non-gated neighborhoods and an abundance of resort amenities including multiple pools, a lazy river, sport courts and ball fields, and walking trails.
For more information, visit Vintage Oaks or click below to send an email.