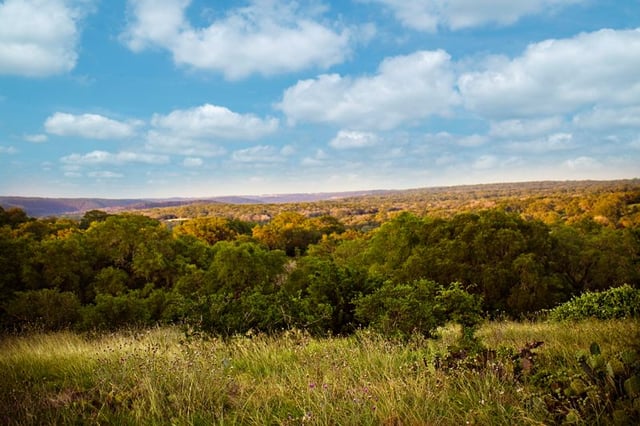 What's the hottest trend in luxury Texas real estate? If you ask the Wall Street Journal, it's buying land in the Texas Hill Country to build a custom home.
"A new wave of settlers has arrived in remote central Texas: affluent buyers seeking luxury getaways on hundreds of acres," they said. "Today's settlers are reshaping the landscape in their own way, building modern getaways with little interest in herding cattle or growing crops. These newcomers are attracted to the remote, rural lifestyle within distance of cosmopolitan cities."
The Wall Street Journal also pointed out that, "Retirees from across the U.S. often relocate here for an active lifestyle and low cost of living relative to many other states. And while there's still a strong cowboy vibe, there are plenty of cultural offerings."
These are just a few of the many factors driving population growth in the area. The Hill Country city of New Braunfels is the second-fastest growing city in the nation this year. Home values are also up, while inventory is down, which has further driven real estate buyers toward the idea of buying land to build a custom home in the Hill Country.
But not all of them are on hundreds of acres; one of the most popular choices is buying acreage property in masterplanned communities in the Hill Country.
"The popularity continues to grow for purchasing small tracts of land in Texas for recreation or commercial endeavors," said the Texas Association of Realtors. "The number of sales and average price per acre went up in 2015, while the average tract size went down." According to the Texas Association of Realtors' infographic, sales of small land tracts in the Hill Country region were up 20 percent and sales are up 7 percent.
The desire for acreage in an upscale, resort-like setting that also happens to offer: convenience (with a location between Austin and San Antonio); great area amenities; a bustling employment base; and incomparable natural surroundings has shined a spotlight on communities like Vintage Oaks.
This New Braunfels masterplan is the fastest-growing community in the San Antonio MSA for three consecutive years. A resort-style community with New Braunfels land for sale ranging from 1 to 14 acres, custom homes, semi-custom homes, Vintage Oaks also offers Hill Country views and amenities including multiple pools, a lazy river, trails, ball fields, and a Tuscan clubhouse.
For more information, visit Vintage Oaks or click below to learn more about Vintage Oaks' Builder Services that can streamline your custom home building process.