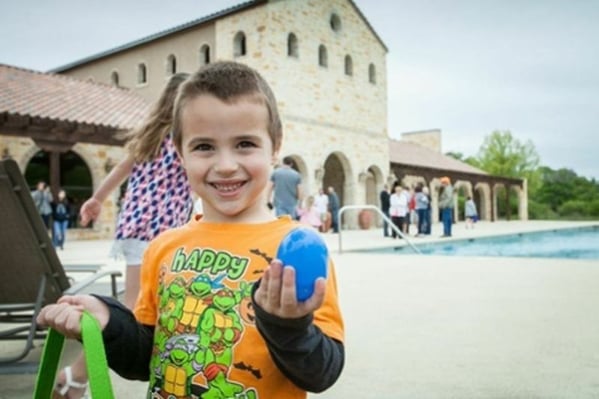 To an increasing number of families, Vintage Oaks provides an unbeatable place to build or buy a home. Those who already live here know Vintage Oaks as the ultimate staycation.
The community was designed to live like an everyday getaway, with an abundance of resort-style amenities that allow residents to be as active as they want and clubs and events that inspire fun and friendship.
Kids play
Riding bikes to the clubhouse. Floating down the lazy river. Saturday T-ball games.
That's just a taste of what makes Vintage Oaks so ideal for kids of all ages. They love being able to take advantage of so many great activities seconds from home, meet neighbors and classmates, and attend schools that are acclaimed for their educational programs and facilities.
Fun for adults too
Sunning at the adult pool. Running along the trails. Hosting dinner parties for new friends.
Vintage Oaks entices residents to explore all that the community has to offer, from the onsite amenities that are so renowned they alone are responsible for attracting many buyers, to the spirit of community that that connects residents.
The return of family time
Concerts at Timber Ridge Park. Family picnics in the shade of an old oak tree. Neighborhood block parties.
Vintage Oaks offers the kind of lifestyle that feels like a return to simpler times, with friendly smiles and waves and events that bring people together. Only it also reflects the needs of today's modern families, with a location that is convenient to two thriving cities and their dynamic employment centers. The community's setting in New Braunfels on the Texas Wine Trail puts all of the Hill Country within easy reach—for those who can tear themselves away from Vintage Oaks' pools and clubhouse and tennis courts and ball fields and numerous parks, that is.
Land and home options
Vintage Oaks offers a variety of home and land options for Hill Country buyers:
Hill Country homes from the $370s
Two renowned builders
Semi-custom homes
Minimum 1-acre lots
Modern floorplans for a range of families
Acreage homesites from the $60s
Gated and non-gated neighborhoods
Wooded, cul-de-sac, and greenbelt neighborhoods
Dramatic views
Private locations with access to onsite amenities
No timeframe to build
Choose your own builder
For more information, visit Vintage Oaks or click below to take a closer look at our family-friendly amenities.