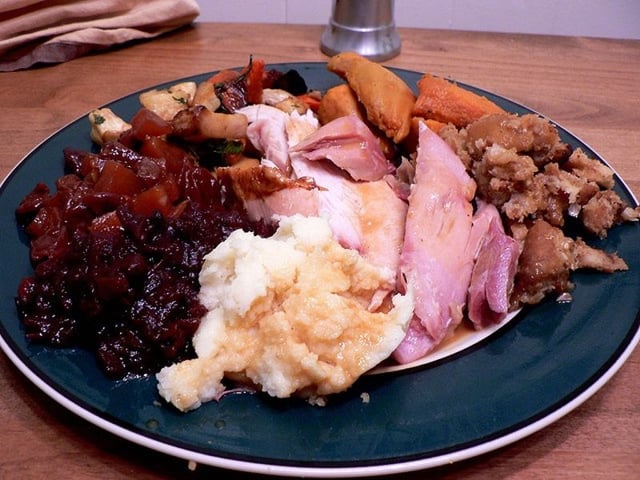 Thanksgiving is a time for family togetherness, but that doesn't always mean it has to take place in someone's living room. If you're looking for a great place to celebrate Thanksgiving in the Hill Country in a favorite restaurant, you'll have plenty of choices this year:
This New Braunfels landmark is also a favorite place to bring the family for Thankgiving, with an all-day feast featuring roast turkey and honey ham, and all the Thanksgiving fixins', including mashed potatoes, corn bread pudding, sage stuffing, and an arrary of tasty desserts.
Tapatio Springs Hill Country Resort
Tapatio Springs Hill Country Resort in Boerne serves a massive Thanksgiving brunch with chef-carved five-spiced turkey, smoked turkey breast, and rosemary-rubbed steamship round, cold and hot displays featuring everything from poached shrimp, cured meats, and ahi tuna tartare to roasted sweet potato and kale gratin, poached eggs and pulled pork benedict, and pepper-dusted salmon. Plus, there's an omelet station and a variety of desserts.
Hyatt Regency Hill Country Resort & Spa
One of the most popular hotspots in the Hill Country for a getaway or to celebrate the holiday, the Hyatt Regency serves both a Thanksgiving brunch and dinner. Brunch includes "an assortment of breakfast items, from made-to-order omelets, waffle station, bacon, pastries and more," in addition to "a variety of soups and salads, carving station, seafood, plus plenty of sides and traditional Thanksgiving favorites." There is also a special children's buffet. Dinner is a "traditional family-style" meal "with innovative twists on popular dishes, along with your favorite Thanksgiving classics."
JW Marriott San Antonio Hill Country Resort & Spa
This hotel is a favorite spot for Thanksgiving brunch every year, with "a gourmet spread of meats, fresh breads, traditional favorites, and desserts made from scratch."
Want to bring in a killer meal to eat at home without having to do the work? New Braunfels Smokehouse offers a variety of main dishes including honey-cured ham, barbecued turkey breast, and smoked pork loin, plus numerous desserts.
Don't forget that if you're looking for a way to burn off that Thanksgiving meal in advance, the 8th annual Gruene Turkey Trot is takes place early on Thanksgiving Day with a 5K run/walk that travels through the picturesque Gruene Historic District and a quarter-mile run through Gruene chasing a Turkey Mascot for kids 12 and under.
And while you're in the area, stop by Vintage Oaks. If you haven't been here for a while, you might be surprised at how much the community has changed. New land releases, construction activity, and new neighbors have continued to transform Vintage Oaks, which has been the fastest-growing community in the Hill country for the past three years. Vintage Oaks is ideally located right on the Texas Wine Trail between Austin and San Antonio and offers Hill Country land for sale plus custom and semi-custom homes and an array of resort-style amenities including multiple pools, ball fields, walking trails, and a Tuscan Clubhouse.
You can also click below to see new homes for sale at Vintage Oaks.