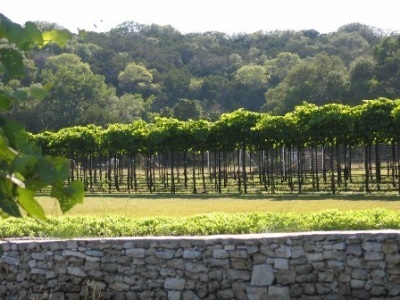 Texas wines are increasingly popular, not just with Texans, but worldwide, with several award-winners that have helped make the area "one of the 10 Best Travel Destinations," as named by Wine Enthusiast. Huffington Post went so far as to call the region, the "New Napa." If you have yet to explore Hill Country wines, winter is a great time. Tasting rooms may be a bit less crowded, and special events and activities are offered in several of the wineries. Here are a few that should be on your list.
You can choose your experience at Flat Creek in Marble Falls, from educational wine tastings that include a walk-through of the wine production facility, dinner at The Bistro with a stargazing party to follow, vineyard walks, live music, and "self-guided wine flights and food from our wood-fired oven" at The Enoteca, the vineyard's urban wine bar. Want a little recreation with your wine tasting? Opening later this month is their new Disc Golf Course, a championship-level course that allows the winery to offer special packages including Wine & Disc and Dine & Disc.
If you want a winery that produces its releases from 100% Texas grapes, you'll want to visit Lewis Wines in Johnson City. Tastings are done seven days a week, or you can reserve a Winemaker Reserve Tasting, featuring "a special line-up with a focus on a single vineyard site, older library releases, or special limited bottlings, giving you personal insight into our growing practices and winemaking philosophy."
Located in Burnet, this small, family-run vineyard and boutique winery also features award-winning wines made from 100 percent Texas fruit. Enjoy live music on nice winter Saturdays, held out on the lawn among the grapevines and with a view of a castle. You might just forget you're in Texas!
One of the wineries that Wine Enthusiast lauded, calling it "a trailblazer in sustainable winemaking in the region," Bending Branch is a boutique winery near Comfort that's open year round for tastings and tours. Bending Branch holds the distinction of having been voted Best Texas Winery in the 2016 San Antonio Express-News Readers' Choice Awards for the second consecutive year.
This award-winning winery in Stonewall is a great place to visit year round. On a nice winter day, which we've had plenty of us this year, you can sit outside and enjoy a view of the vineyards with your wine tasting.
This premier Texas Wine Trail winery in New Braunfels is known for its award-winning Black Spanish wine and special winery events all through the winter (and the rest of the year).
As a bonus during your visit, you'll be right across the street from Vintage Oaks, the fastest-selling community in the Hill Country for the past three years. What better time to come for a tour and see the Hill Country land and New Braunfels homes for sale.
For more information, visit Vintage Oaks. You can also click below to immediately see new homes that are now available.