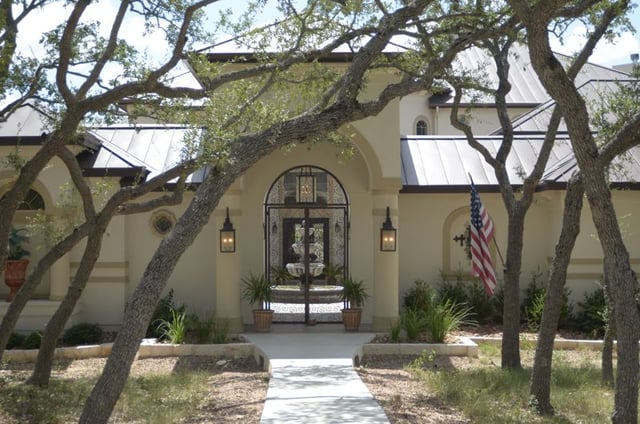 When buying any Hill Country real estate, establishing a budget is generally one of the first tasks. And, certainly, one of the most important. When that real estate happens to be a custom home, budget considerations take on another layer of importance. Because there is no set price and there are so many opportunities for the bottom line to get out of hand during a custom build, it's critical that the budget is set early on and that it's followed carefully. Here are some tips to get you started.
Prequalification

When buying property in the Hill Country homebuyers, the bank helps determine their budget. But it's smart for all buyers, whether you're buying an existing home or building a custom home in New Braunfels, to talk to a lender as a first step. That way there won't be any question about what you can build.

Choose the right land

You can't start building a custom home in Texas until you've decided where it should go, and choosing the right Hill Country land is critical to the process. After all, you can always make updates and changes to your home down the line, but your homesite is your homesite. Your real estate agent or the sales professional in the communities in which you're looking for Hill Country land for sale should be able to point you toward communities and homesites that meet your needs. They'll also be able to recommend specific lots that are best suited for the home you intend to build and point out important details like setbacks, POAs, and square footage requirements.
Developing your floorplan
You may have a good idea of what your custom home's floorplan is going to look like, or perhaps you only have an idea of the number of bedrooms and baths you want and need help with the rest. So much of your home's cost will be based on the floorplan and square footage, so it's important to start identifying your basic needs and adding on from there. Ask yourself:
How many bedrooms and baths do you need?
Do you want a one-story or two-story home?
Do you envision a first-floor master? Where will the other bedrooms be situated?
Do you need a home office? Should it be upstairs or down?
What kind of kitchen do you want—a huge gourmet space with an island that can seat half the neighborhood is all the rage but will not be inexpensive
Is an emphasis on indoor-outdoor living important to you? How about a bonus room, game room, or home theatre?
Do you have any high-tech equipment that will require upgraded electrical?
Are you thinking of going green in your custom home?
Have you thought about the total square footage you want or the architectural style of the home?
Nailing down the square footage

Once you know the top end of your budget in terms of what you can qualify for and you've given some thought to what your custom home may look like or contain, it's time to meet with potential builders. Choosing the right builder when building a custom Hill Country home is vitally important, so make sure you get referrals.

Your builder should be able to give you an estimate based on your square footage and a rough idea of the home's features, but remember it will vary widely depending on materials and finishes.

Adding personal details

Speaking of materials, features and finishes, those are the items that are likely to have a great impact on the cost of your home and can blow your budget if you're not careful.
A larger home with less expensive finishes may cost you far less than one with high-end materials. But, for many people, the joy in building a custom home is being able to add those personal details and customize the home to their liking and their needs. So if you envision imported Brazilian handscraped hardwoods throughout you home and exotic granite harvested from a place you've never even heard of, go for it. Just allow room in the budget!

Ask your builder for help

If you are working with an experienced Hill Country custom homebuilder, he or she probably has numerous connections to help you secure those materials and even find discounts. A builder will also be able to help you design your floorplan, or provide options for predesigned floorplans to help inspire you.
Adding a cushion
Your builder will typically build in a contingency to cover unknowns like weather delays and increased material costs, but adding your own cushion into the budget is a smart move. That way you have leeway for changes along the way, like those professional kitchen appliances you've been eyeing for the last three years.
For more information, visit Vintage Oaks. You can also click below to view the drone video of new releases in Deer Creek.