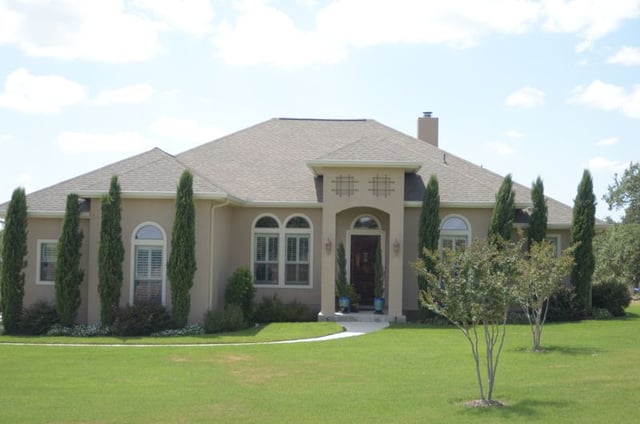 If you've bought a home before, you're probably familiar with the different costs involved, from your down payment to the closing costs. But if you're buying land in the Hill Country for the first time with the intention of building a custom home, you may not be aware of some of the costs. Here's what to expect, from buying your homesite to your final finishes.
Buying your land
How much your homesite costs depends on the size, the setting, the configuration, and a whole lot of other factors. For some, the cost is negligible and the real expenses are in the materials. Others seek to buy the best lot in New Braunfels (or another area of the Hill Country) they can find. Either way, buyers will want to secure a land loan unless they're paying cash. Interest will add to the cost, but costs for a land loan are generally more manageable than a home loan because of the much shorter term. That's just one of the differences between land and home loans.
Other land fees
Depending on whether you buy land that is buildable or has not yet been improved, and where it's located, you should expect to have at least a few additional costs related to preparing it for construction, such as:
Permit Fees—Fees are used to secure permit for building any structure, plus utilities including electrical and sewer/septic. Some may be obtained by your builder; this will be detailed in your contract.
Lot preparation fees—You may need to remove a few trees or do more extensive work to prepare your land for construction.
Utility costs—Buying in a remote area that isn't currently served by utility companies? That will cost more and be a more involved process than buying land in a masterplanned community. Keep in mind also that septic and sewer will have different upfront and ongoing costs.
Construction costs
You're probably expecting to set a budget for your custom home and make sure you're approved at the beginning of the process, which is common. But the true costs of your custom home won't be revealed until you've met with a builder, designed the floorplan, and picked out the features and finishes. Often, it's this last step that can lead the budget to swell. According to a National Association of Home Builders (NAHB) survey, "Interior finishes, at 29.3 percent, accounts for the largest share of construction costs."
Square footage will also impact your budget, as will the location of the home.
Unexpected costs
There may be surprise costs that pop up during the homebuilding process. These can range from weather delays to issues with materials. Sometimes, the buyers' changes to floorplans or features during the custom homebuilding process can cause the budget to rise. While builders can be expected to create a cushion in the budget to account for unexpected issues, homebuilding experts recommend that buyers build in their own cushion as a "just in case."
Living in the Hill Country
One of the advantages of buying Texas land is being able to choose your specific location, community, and homesite. Communities like Vintage Oaks in New Braunfels have become popular for their array of Hill Country land for sale in gated and non-gated neighborhoods, plus an array of resort amenities. Vintage Oaks is the fastest-selling community in the Hill Country for the past three years. For more information, visit the website or click below for details about our newest property release.